My Chicago Marathon training plan called for a "10K Test" today. The idea is to run a race to evaluate your current level of fitness. I chose to run the "Escape to Belle Isle" in downtown Detroit. I decided to go for a personal record.
The Plan
Earlier in the week I developed a per-mile pacing plan. I would run the first mile in 10 minutes and the second in 9:30. Miles 3 and 4 would be at a 9 minute pace, 5 and six at 8:30. If I hit these goals, I could run as slow as a 10 minute/mile pace for the last 0.2 miles and finish in 54 minutes and 30 seconds, beating my PR by 42 seconds. I would carry my own Gatorade and 1 packet of GU to take at the halfway point.
It was a good plan as far as it went. But it was the only planning I did. I spent the week training for a fall marathon, not a weekend 10K. Due to weather and work schedule constraints, I ran a total of 8 miles on an indoor track. The track is small, requiring 44 turns in the same direction every mile. Knees and ankles don't like this. Yesterday I did my scheduled full-body weightlifting workout, never considering how sore I might be for my race the next day.
The Reality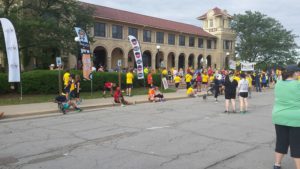 As I should have anticipated, I woke up sore from yesterday's strength training. I headed downtown at 6:45 and arrived on Belle Isle at 7:20. I picked up my race packet and went back to my car for a Clif bar, a packet of GU and a few sips of Gatorade. I filled my water bottle with Gatorade, grabbed a salted caramel GU, and walked to the starting line.
The gun went off and I realized my first mistake. I had lined up at the back of the pack, not the middle where I belong. This meant the first mile would be spent making my way around slower runners and walkers, including those with strollers and dogs. Another challenge was a sharp turnaround just a few hundred yards into the race. Focused on positioning myself in a more comfortable and less congested section of the pack, I paid no attention to my pace.
At the first mile marker I looked at my watch for the first time. I had run the first mile in 9 minutes and 17 seconds. I had already deviated from my plan. I decided to try to slow down to 9:30 and try to get back on track. The second mile was along the south side of the island, with a great view of the Detroit River and the Windsor, Ontario skyline. As I passed the Dossin Great Lakes Museum my thoughts turned to memories of a wonderful day spent there with my wife and our grandson. Patrick fell in love that day. The object of his affection was Miss Pepsi, a retired hydroplane who in her day was by far the fastest boat on the Detroit River.
The marker for mile 2 brought my mind back to the race and my eyes back to my watch. I had run the second mile in 8 minutes, 58 seconds. I was more than a minute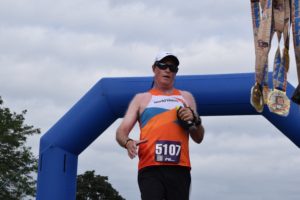 ahead of my plan. I knew from experience I was at risk for running out of steam too soon. I attempted to run the third mile at a 9 minute pace. I came fairly close, completing it in 8:50. At this point we had rounded the north end of the island, and the Detroit skyline was coming into view.
Miles 4 and 5 were both at at an 8:43 pace. I thought I did not have the energy to reach the planned 8:30 pace, but I didn't need to. I just had to maintain. At the 5 mile mark I tried to calculate how fast I needed to run the last 1.2 miles in order to PR. My brain would not cooperate. I might as well have been trying to solve a complex quadratic equation. I just could not do it. But I knew I was close, so I decided to expend the last bit of energy I had.
Mile 6 took me 8 minutes and 30 seconds. I ran the last 0.2 at an 8:10 pace, leaving nothing on the course. I crossed the finish line exhausted but happy. My official time was 54:36. At age 61 I had just run my fastest 10K ever.
Click here to help me and Team World Vision provide clean water to families in Africa.

Just $50 provides clean water for one person for life!