Sunday I ran the Brooksie Way Half Marathon in Rochester Hills, Michigan. It was my dress rehearsal for the Chicago Marathon. I wore the clothes I plan to wear in Chicago, carried the same fuel, and followed the same pacing plan. I ate and drank at the same intervals as I plan to in Chicago. Other than the distance, there was only one significant difference. Chicago is flat. Rochester Hills is, well let's just say it is appropriately named.
I arrived at the starting line an hour early. The sky was clear and the air was still fairly cool. Hundreds of runners stretched and warmed up as music was blaring from the sound system.  I met a fellow Team World Vision runner from Grand Rapids who will be running Chicago in 2 weeks. By the time I lined up in my corral the adrenaline was flowing. I was pumped up and ready to run. I started in the familiar place known as the middle of the pack. And by design, I remained there for the entire race.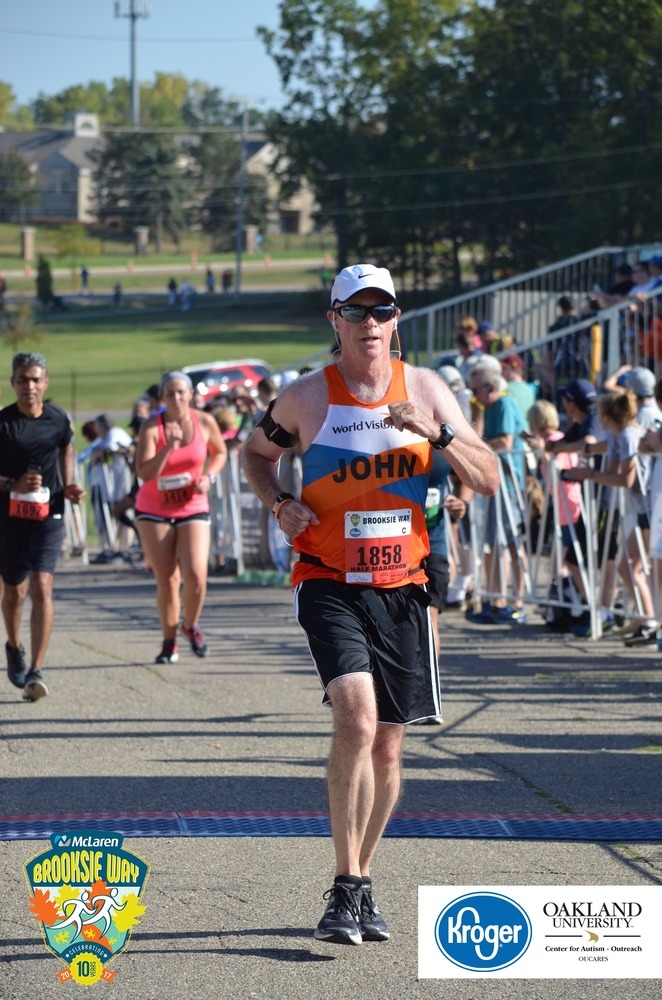 As the gun went off I thought about how different this half would be compared to the 14 I had run previously. I knew this would be one of my slowest half marathons ever. No, it was not a matter of being unprepared. Rather, I had made a conscious decision to run at a 10:30 pace, because that is my goal pace for Chicago in 2 weeks. I thought it would be easy. As is often the case with running and me, I thought wrong. I had heard the Brooksie Way was hilly. I train on hills. No problem. But these hills were longer and steeper than any I was used to. And they kept coming, mile after mile.
The temperature provided yet another challenge. July had decided to return to Michigan a few days earlier. I never did check the weather report, but I'm sure the mercury hit the mid-to-high eighties before the race was done. There won't be hills in Chicago, but there could be heat. With all of the focus I could muster, I followed my pacing plan for a gruelling 13.1 miles. And it worked. Because I ran my slowest half marathon ever, but only by 7 seconds. I averaged 10 minutes and 32 seconds per mile, just 2 seconds off of my goal pace. Yes, it was my worst half marathon ever, and is was a smashing success.
So now I can enjoy the best part of marathon training: the taper. My longest run over the next 12 days will be a mere 8 miles. And I will take those miles easy. The trick to successful tapering is to recover from 16 weeks of hard, painful training, without losing your fitness. More on that next time.
Click here to help me and Team World Vision provide clean water to families in Africa.

Just $50 provides clean water for one person for life!