The 2017 Chicago Marathon was an experience unlike any other I have had. For all of my planning, researching, and blogging about the marathon experience, the real thing was in many respects different from what I expected. So different I've had a hard time summarizing it for my blog. But I'm going to give it my best.
A good night's sleep is critical the night before a marathon. I had a long but good day on Saturday, finally getting to bed around 10:30. That didn't leave enough time for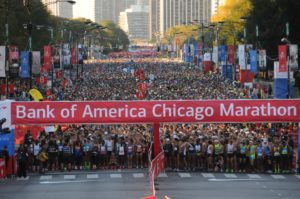 a good night's sleep. The sleep I did get ended at 3:30 when I found myself wide awake. So I got up and got ready for the race. My hotel had 2 shuttles to the starting line, one at 5:00 and another at 5:10. Not wanting to risk missing the shuttle, I went down to the lobby at 4:30. There I saw another runner in a Team World Vision jersey. His name was Mike, and he was about to head to the starting line on foot. Since he was familiar with the downtown area, it seemed like a good idea to tag along.
The Team World Vision tent turned out to be almost 2 miles from the hotel. It was of course still dark and the air was brisk, but the 35 minutes or so it took to walk there went by quickly. We were among the first to arrive at the tent, but a steady stream of runners followed. Altogether there were 1,980 runners wearing the Team World Vision jersey. The mood in the TWV tent was electric, as we heard music, pep talks, and the sound of excited runners talking about what was about to happen. After a time of prayer we lined up according to our starting corrals and headed out for the starting line. It was a little over a mile away.
I was in my corral when the race began at 7:30. Surrounded by runners on every side and with Chicago Police lining the streets and flying through the sky in helicopters, I heard the announcement that the 2017 Bank of America Chicago marathon was underway. But I didn't see anybody running. Corral H was a long way from the starting line, and there were literally tens of thousands of runners ahead of me. We finally got the OK to start shortly after 8:00, and at 8:20 I crossed the starting line to begin my 26.2 mile journey.
I had planned to run the first mile at an 11 minute pace. I quickly realized the pack, not I, would dictate my pace. At least in the early miles. I decided to relax, take in the sites, and check my Garmin GPS watch when I reached the 1 mile marker. That marker came quickly. I looked at my Garmin. It said I had already run 1.35 miles and was currently moving at a superhuman 2 minute per mile pace. At that moment I remembered something I had learned years ago running in downtown Detroit: GPS watches are no match for big city buildings. My Garmin, which I have come to depend on to manage my pacing strategy, would be of no use in this race. I would have to wing it.
I could feel the temperature and humidity rising quickly. The mercury would be near 80 degrees within a few miles. I tried to run at a comfortable pace and focus on the amazing city I was running through. And it was amazing. Starting downtown, we ran through the loop and down the Magnificent Mile. The course wound through 29 neighborhoods, including Old Town, Greektown, Little Italy, Chinatown, Bronzetown, and Pilsen. We were greeted warmly at the Mexican Consulate and the Moody Church. Everywhere we ran the streets were lined with wildly cheering spectators. The crowd support was energizing and motivating.
But the crowd support was not enough to offset the rising heat and humidity and the effects of having been on my feet for 4 hours before even crossing the starting line. Each mile got harder, and by the half-marathon mark I had been running 2 hours and 30 minutes. I adjusted my goal time to 4 hours and 59 minutes. I followed the hydration and nutrition plan I had rehearsed on my last few long training runs, and took my planned walk breaks. Yet, by mile 17 I knew I was in trouble. I would not say I had hit the wall, but my legs were giving out. They were feeling weak and I needed to slow to a walk.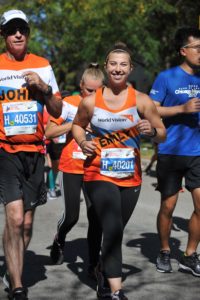 For the next 6 miles I walked as much as I ran. I kept eating and drinking, but my energy was fading. The heat and humidity were getting worse. I kept to the shady side of the course when there was one, but nothing seemed to help. I was getting discouraged and I was feeling like a failure. Doubts about finishing the race crept into my mind. Near mile 23 two young women in Team World Vision jerseys came alongside me. One of them, Emily, asked me how I was doing, and seemed genuinely concerned. She said she and her friend would walk with me for a bit.
As we walked, my new friends did their best to encourage me. As we passed the 23 mile marker Emily said "it's just a 5K now. We can do a 5K." So we sped up to a slow jog, and maintained the pace for about half a mile until we came to the next water station. We walked through the station. I drank both Gatorade and water. When it came time to pick up the pace, I couldn't do it. So I told Emily to go on ahead. I would see her at the finish line.
The next 2 miles were more walking than running, but the 25 mile marker seemed to come into view quickly. My self-talk got very personal. I think I even called myself by name. "John, this is your last marathon. You have 1.2 miles to go. Just do it." I was long past any hope of a sub-5 hour finish, but with a decent last mile I could at least come in under 6. So I ran. It wasn't fast, and it wasn't pretty. But I ran. The entire 1.2 miles. When I saw the finish line ahead of me I experienced a familiar phenomenon. The pain and fatigue began to melt away. The goal was in sight. I was about to complete a marathon.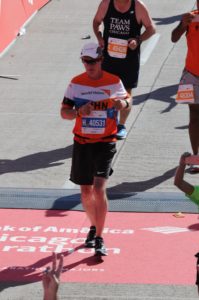 5 hours, 49 minutes, and 55 seconds. It was not an impressive time. It was not what I had hoped for and it was not what I had trained for. But I was done. I had completed the course and I was wearing a finisher's medal.
I walked back to the Team World Vision tent for our post race celebration. There was a woman at the entrance of the tent who was announcing each runner as they came in. She stopped me to ask how I had done. But she was not asking how fast I ran or how long the race took me. She was asking how many children I had provided clean water for. I told her it was 155. She lifted the microphone and shouted "let's give it up for John who just brought clean water to 155 kids!" Suddenly I remembered why I had done this in the first place. It was not for a PR and it was not for a medal. It was for the kids. The race was a success.
It's not too late to donate. My personal goal has been met, but there is still more work to be done. Click here to help me and Team World Vision provide clean water to families in Africa. 
Just $50 provides clean water for one person for life!