Yesterday's run was a significant milestone, if only psychologically, in my marathon training plan.  My schedule called for a 10 mile "long run." I had not run that many miles since the Grand Rapids Half Marathon in October of 2015. I found it hard not to think about it for several days. The distance, of course, was one concern. My 8-miler the week before was not a great one. Vicki and I were travelling "up north" for a weekend in our very favorite place, Petoskey, Michigan. A visit to Petoskey is always a wonderful experience, but with a stop at Sleeping Bear Dunes on the way up I would be driving for more than 6 hours the day before my run. Another concern was running an unknown course. It's important to me to know where I am going and, more importantly, how to get back.
The combination of mild anxiety over the upcoming run and being in a hotel rather than home resulted in little sleep Friday night. This is not good before a long run. Perhaps the only positive was I had no trouble being awake at 5 AM. I got up, dressed, grabbed my gadgets and walked the quarter mile to the Little Traverse Wheelway, a paved bike trail that runs along Little Traverse Bay and Lake Michigan from Harbor Springs to Charlevoix. The sun would not break over the horizon for a good ten minutes, but there was enough light to clearly see the trail. I headed south toward Charlevoix.
After running a little over a mile I looked over my shoulder and saw a magnificent sunrise behind me. I had to stop and take a picture. That stop would be the only one of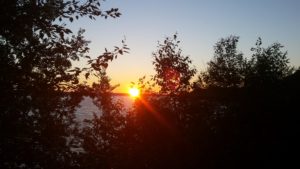 the entire run. The miles passed easily as I took in spectacular views of the bay and the lake. Portions of the trail took me through woods. The views were stunning and the shade was refreshing. I can't remember ever running in a more beautiful place.
I was experimenting with a new technique, running by perceived effort rather than per-mile pace. The plan was to run the first half at an easy pace, the second at a moderate pace. The five mile mark seemed to sneak up on me. It was time to turn around and pick up the pace. At mile 8 when I would have expected to be fading, I felt a surge of energy. Seeing Petoskey in the distance through the trees, I picked up the pace. The last 2 miles were my strongest and fastest. As I came out of the woods to a breathtaking view of little Traverse Bay, I thought to myself "this is why I love running."
Click here to help me and Team World Vision provide clean water to families in Africa.

Just $50 provides clean water for one person for life!