Last week I wrote about the wall, the dreaded situation when a runner depletes their stored glycogen and the body shuts down. Been there, done that, don't want to do it again. Yesterday's 18 mile run gave me the opportunity to rehearse my strategy for avoiding the wall in Chicago. The plan had 2 key components. First, I switched to an energy gel, GU Roctane, with a higher level of amino acids and electrolytes. Amino acids are essential to rebuilding damaged muscles. Electrolytes, specifically sodium and potassium, are critical to maintaining a proper balance of water in the body. Second, I decided to take a short walk break (0.15 miles) every 4 miles.
I chose to run on a flatter section of Hines Drive that my usual course. I had recently read that when training for a flat race, like Chicago, you should train on a flat course. My previous thinking was that since a hilly course feels harder to run, a flat one would be easier to a runner accustomed to hills. However, when you run hills different muscles kick in for uphill, downhill, and flat terrain. On a flat course you work the same muscles over and over for, in a marathon, 26.2 miles. It is a different experience that requires different training.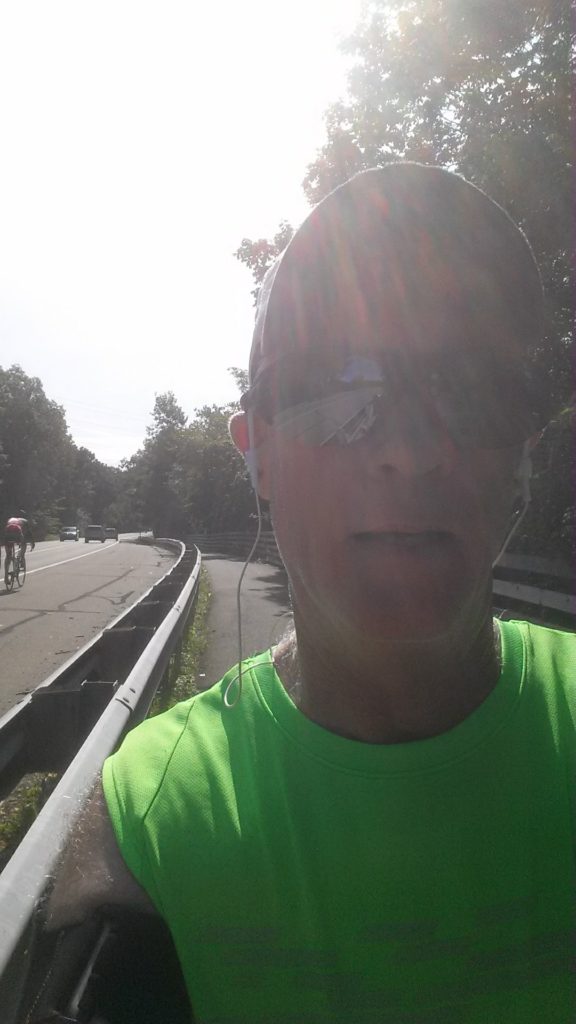 I started out at 7:45, a bit later than my normal Saturday morning start time. The day was sunny and the temperature was a crisp 53 degrees. My kind of running weather. The first 4 miles were pleasant and uneventful. I didn't feel a need for a walk break, but I took one as planned. I ate a GU Roctane, washed it down with a little Gatorade, and picked up the pace again. Repeating this cycle according to plan, at mile 16 I realized I was tired and a bit sore, but still going strong. I took my last planned walk break, downed my last gel, and finished by running my fastest 2 miles of the day.
The best news of all was that, even with the walk breaks, my average per-mile pace was within 3 seconds of my personal record for the marathon. While I will not minimize the possibility and the seriousness of hitting the wall, I am feeling more confident about a successful run in Chicago. And I'm even considering going for a PR. In 2 weeks I have a 20 mile run scheduled. I am going to stick with the planned walk breaks. But I am going to try yet another new energy gel, e-Gel. It has 50% more calories than GU Roctane, less sugar, more complex carbohydrates, and no caffeine. Their website makes a convincing argument for its superior performance. A 20 mile run should be a good test.
Tomorrow begins a cut-back week, but I will still run 33 miles total, including a 14 miler on Saturday. After that comes the toughest week of my training plan – 40 miles total in 4 runs over 6 days. But I can't think about that today. Today is a rest day, and I am going to enjoy it.
Click here to help me and Team World Vision provide clean water to families in Africa.

Just $50 provides clean water for one person for life!