I feel like I just ran 15 miles. Maybe that's because I just ran 15 miles. I have felt pretty good after most of my runs lately, but this was a tough one. My legs are sore and I am ready for a nap. The good news is that 15 miles, while only 57% of the marathon distance, is long enough to practice many aspects of the upcoming race.
Chicago weather in October is unpredictable. In 2007 the Chicago Marathon had to be stopped because of excessive heat. Runners even died that year from the heat. Two years later the low temperature on race day was 28 degrees. Today I got to practice running in a variety of weather conditions. I had planned to run at 6:30 AM, but thunderstorm warnings kept me home for a couple of hours. When I finally drove to Hines Park for my run the rain had passed. The air was cool and smelled fresh. It was still cloudy. Good weather for a run. Until the clouds disappeared and I got a chance to practice running in heat and humidity. After about an hour of that, the next lesson was on running in pouring rain.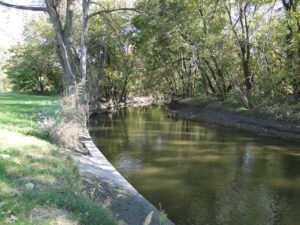 Nutrition strategy is a key element of successful marathoning. The trick is to eat enough for sustain your energy level without upsetting your stomach. It takes practice to get it right. Today I tried eating a GU just before I started, then one every 4 miles. While this seemed to work pretty well, on next week's 16 miler I am going to try eating every 3 miles. If I can tolerate it, I believe the extra calories and electrolytes will help my performance.
Team World Vision provides water along the course on our Saturday group runs. I had to do my run a day early this week, so I was on my own for hydration. I carried 16 ounces of Gatorade with me, then refilled my bottle with water around mile 10. Not ideal, but it worked. 2 weeks before Chicago I am running the Brooksie Way Half Marathon, which will give me the opportunity to practice drinking Gatorade from a cup every 2 miles. If that sounds easy, try it. While running. With others runners constantly cutting in front of you or bumping into you.
I did my long run a day early this week because tomorrow I will be driving for about 6 or 7 hours. That will give me the opportunity to practice one more thing I will need to do in October: drive home to Detroit with sore legs.
Click here to help me and Team World Vision provide clean water to families in Africa.

Just $50 provides clean water for one person for life!